Business Philosophy
Advantages
FOUR TWO ELECTRONICS CO., LTD. has been committed to manufacturing, processing, plug moulding, and customization in Taiwan for over 30 years. In order to elevate our standard and quality, we improved and met the requirements of ISO 9001 standard, and also got the certificate.
All of our products are complied with safety standards to allow customers feel assured. Adapt to international competition, we built our own wire plant. General manager has committed to integrating company and working toward the trend of one-stop supplier in the future. In order to reduce customer's pressure of hoarding goods, stocks are kept by us.
For procurement, our purchasing is based on a large volume to lower the cost and support our customers. Let our products be attached to your company's products, and become more competitive in the international market.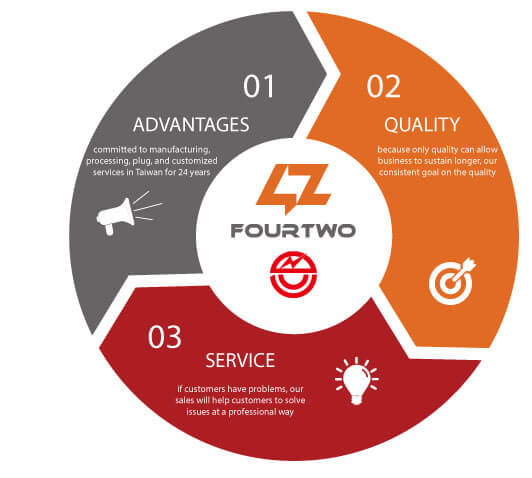 Quality
General manager cares much about the quality, because only quality can let business to sustain longer. Japanese customers's requriements about quality are severe. Orders from Japan may not be welcome by other companies, but this can not happen in FOUR TWO ELECTRONICS CO., LTD. We have 50% of customers are from Japan. We enjoy the quality being recognized. There are five to six quality inspections during our production, and we have ten to twenty quality inspectors in our factory to conduct first article inspection, random inspection, regular inspection, and final inspection according to our company's self-inspection sheet.
General manager requires strictly on equipment checking regularly and timing machinery replacements . To create a very good working environment for employees working for customers, and to let consumers feel secure about our products are our consistent goal.
Service
We accept a wide range of customized orders.
If customers have problems, our sales will help customers solve the issues professionally.
Our short lead time is also well-reputed in the industry.
We are looking forward to serving everyone.
"Our efforts, waiting for your recognition"